Questions?
+33 (0)1 86 95 95 02
hello@bubble-globe.com
Duration of the experience : 1 day
Take advantage of your day at Versailles to discover the universe that lies inside the horse stables with a vice-champion of France
Day 1 - From 10:00 am to 12:00 pm
Horse riding in the Parc de Versailles
Offered by Raphaele
What would you say to a horse ride in the famous Jardins de Versailles? Discover the beauty of this garden, an iconic image of Parisian royalty.
Day 1 - From 12:00 pm to 2:00 pm
Picnic in the Jardins de Versailles
Offered by Raphaele
To best savor a delicious Parisian picnic, we will find ourselves a spot in the famous gardens of Versailles, near a fountain or pond… The choice is practically unlimited.
Day 1 - From 2:00 pm to 4:00 pm
The Equestrian Academy of Versailles
Offered by Raphaele
Enter the prestigious National Equestrian Academy of the Versailles Estate, created by Bartabas, pioneer of the Equestrian Theater. Discover the professions that are the pride of this amazing institute and you may even get the chance to access the backstage areas of an equestrian show.
Day 1 - From 6:00 pm to 8:00 pm
Attend an Equestrian Show or International Competition
Offered by Raphaele
To end our journey, join me in attending one of the prestigious equestrian shows of the famous Bartabas, or let yourself be swept up by the atmosphere of an international equestrian competition. Depending on the season and availability, we will offer you the chance to participate in a performance that will remain in your memory for a lifetime!
+ 1
see the gallery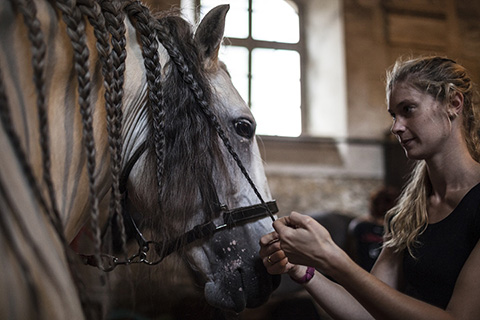 From 1 to 5 people
For a request of more than 5 people, please contact us
No children accepted under 12 years of age
Transportation is not included
Château de Versailles, Place d'Armes, 78000 Versailles
In front of the gates to the Château de Versailles
All details and contact information will be transmitted to you upon completion of your reservation in order to facilitate the meeting with our expert.
If you wish to cancel the reservation:
- At least 5 days before the scheduled time of the experience, 50% of the total amount of the reservation will be reimbursed.
- Less than 5 days before the scheduled time of the experience, 100% of the total amount of the reservation is due.
About our expert
Raphaele,

Avid Horsewoman

Raphaele was born in 1987 in Metz, in the east of France. A passionate rider and horse lover, she has won numerous national and international titles in show-jumping competitions with different horses. Notably, she was the Vice-Champion of France in the Young Seniors category, and several times finalist at the French Championships of Cavalières. She proposes a unique discovery of Paris on horseback in the Bois de Vincennes. A relaxing and unexpected experience a stone's throw away from the center of the City of Lights.